MFI404 Melting flow tester (Touching screen)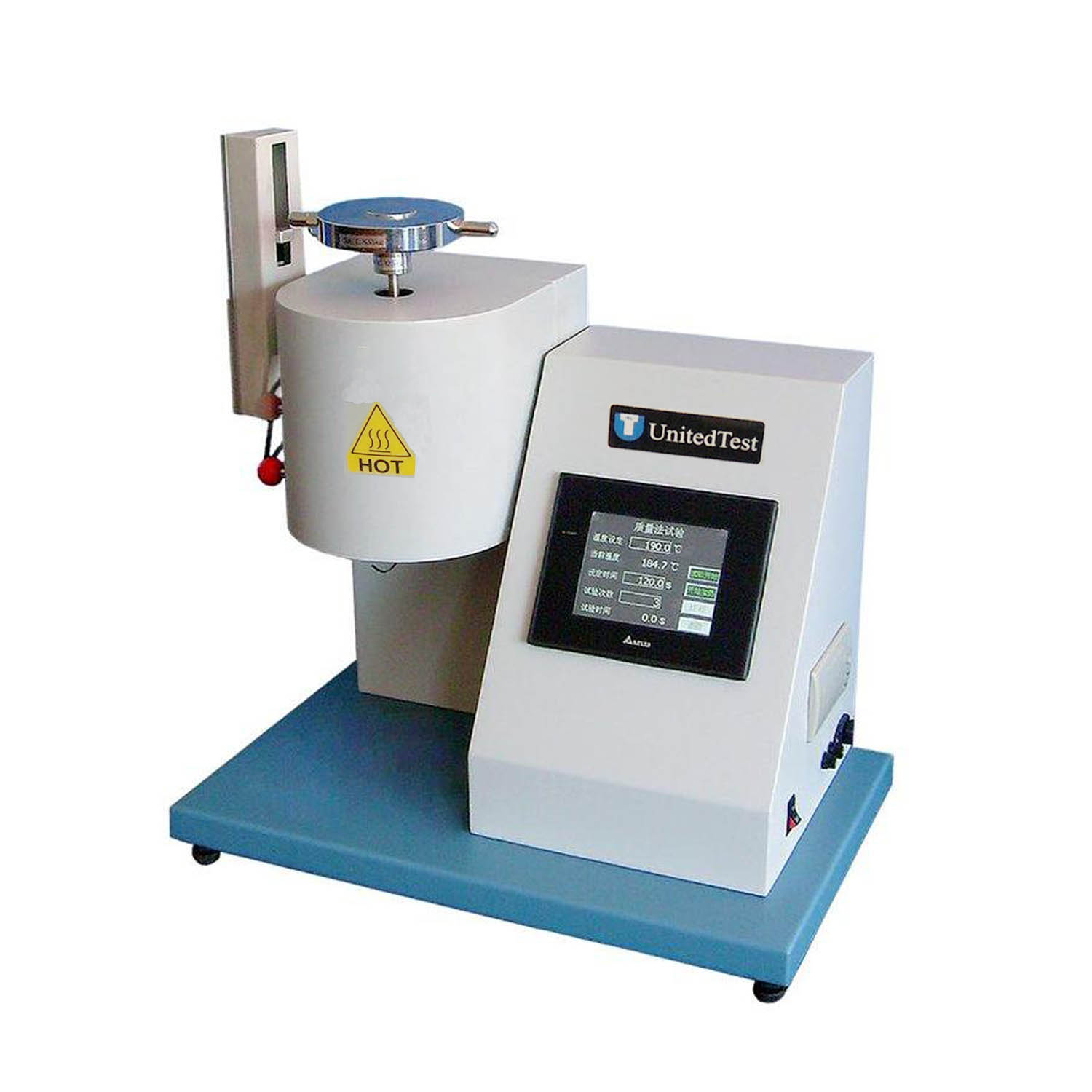 Introduction
Specification
Accessories
Standard
LEAFLET & VIDEO
Contact Us
MFI series Melt Flow Index Tester/Extrusion Plastometer.
They are suitable to measure the melt flow character of PP, PE, PVC, POM, ABS etc., plastic materials resin and granules.

Principle: The melt mass-flow rate (MFR) and the melt volume-flow rate (MVR) are determined by extruding molten material from the cylinder of a plastometer through a die of specified length and diameter under preset conditions of temperature and load.

Feature of MFI404:
Touching screen, both MFR/MVR test method, motorized cutting, with micro-printer, show the temperature VS Time graph.

Test Procedure:
Approximately 7 grams of the material is loaded into the barrel of the melt flow apparatus, which has been heated to a temperature specified for the material. A weight specified for the material is applied to a plunger and the molten material is forced through the die. A timed extrudate is collected and weighed. Melt flow rate values are calculated in g/10 min.

Specimen size:
At least 14 grams of material;

Data:
Flow rate = ( 600/t x weight of extrudate )
t = time of extrudate in seconds
melt flow rate = g/10 min.

Other name:
Melt flow index testing equipment; melting flow indexer; melt indexer iso 1133; digital melt flow rate tester; quality melt flow index testing machine; melt flow index astm; plastic Melting Flow Index tester

Model
MFI404
(XNR-400D)
Temperature range

Ambient temperature to 450℃ stepless adjustable, fixed point temperature control

Temperature fluctuation

±0.5℃

Temperature resolution

0.1℃

Weight

8 levels, total 21.6kg mass

Measuring method & range
MFR (0.1-2000)g/10min
MVR(0.1-2000) cm3/10min
Heating power

450W

Extruding part spec. :

(1), Inner diameter of die

φ2.095±0.005mm

(2), Length of die

8.000±0.025mm

(3), Inner diameter of filling canister

Φ9.550±0.025mm

Weight
Frame: 30kg
Standard weights: 25kg
Power

220V, 50HZ/110V, 60HZ

Display

Toruching screen display temperature, time, sampling number, temperature VS time curve etc.

Micro-printer

YES

Specimen cutting mode

Automatic & Manual both mode

Other model:



1, MFI401 Digital display, economical type, manual cutting, only MFR test method;


2, MFI402 LCD display, economical type, motorized cutting, only MFR test method;
3, MFI403 LCD display, motorized cutting, both MFR/MVR test method;


4, MFI405 Computer controlled melt flow index tester, analysis temperature-time curve, print test report ( test data, curve etc.,).






Comparison table:




ModelMFI401MFI402MFI403MFI404MFI405Test methodMFRMFRMFR/MVRMFR/MVRMFR/MVRDisplayDigitalLCDLCDTouching screenComputerPrinterNoMicro-printerMicro-printerMicro-printerA4 paper PrinterSpecimen cuttingManualAutomaticManual/AutomaticManual/AutomaticManual/AutomaticTest curveNoNoNoNoYes

?
Item
Quantity

Frame

1 set

Die (φ2.095) tungsten carbide material

1 pc

No. 1 weight (piston rod + weight tray): 325g

1 pc

No. 2 weight: 875g

1 pc

No. 3 weight: 1835g

1 pc

No. 4 weight: 3475g

1 pc

No. 5 weight: 4675g

1 pc

No. 6 weight: 5000g

1 pc

No. 7 weight: 2500g

1 pc

No. 8 weight: 2915g

1 pc

Scraper

1 pc

Sample loading hopper

1 pc

Water level

1 pc

Die cleaning rod

1 pc

Cylinder cleaning rod

1 pc

Sample loading rod

1 pc

Sample plate

1 pc

Electric wire

1 pc

Cleaning gauze and gloves

1 pc

Accessories containing case

1 pc

Documents (Manual, packing list, certificate)
ISO 1133 "Plastics - Determination of the Melt Mass-Flow Rate (MFR) and Melt Volume-Flow Rate (MVR) of Thermoplastics"
ASTM D1238 "Standard Test Method for Melt Flow Rates of Thermoplastics by Extrusion Plastometer"
ASTM D3364 (for PVC), BS 2782, DIN 53735, JIS K7210
MFI404 Melt Flow Index Test Touching Screen Introduction Video
MFI404 Melt Flow Indexer Test Opeation Video
Related products